A Greeting from
Michael Collins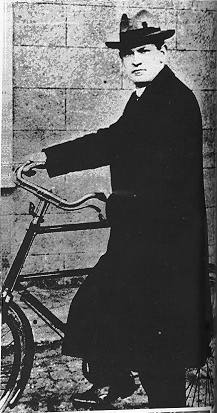 Michael Collins
August 30, 1997
Dear Mass Riders,
At one time, I was the "most wanted" man in Europe. My crime? Wanting liberty for my country which had suffered 800 years of brutal tyranny at the hands of the British Empire. The odds were long, our resources meager, but today there is an Irish Free State.
It's a well known historical fact that I helped coordinate the liberation movement from the seat of a bicycle - and the team of agents the British government sent to assasinate me was never able to lay a hand on me.
Congratulations on your proof last night of who the real thugs in San Francisco are.
God bless you and keep you strong!
Sincerely,
Michael Collins
---
Back to the archive
---
To receive regular e-mail updates, write us.
We won't share your address with anyone else and
you can remove yourself from the list easily any time.
Currently, we are the only source of info on this story
---