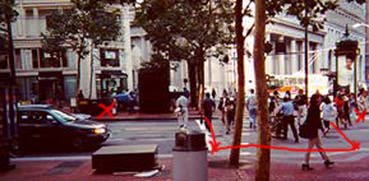 Market Street just before Sansome
Left is west and right is east. Moe was traveling east and the Decaux van driver was traveling west.
The red "x" on the far left is where Mr. Moe's body was found. The large red square is the outline of the crosswalk. The red "x" on the far right is the corner of Sansome and Market. We know that's the corner because of the Decaux billboard/news stand which is positioned there. The distance from the eastern extreme of the crosswalk (red "x" on the far right) to where Moe landed is approximately 50 feet.
Either the van was traveling at an extraordinary speed in a 25 m.p.h. zone or Mr. Moe was hit very near or inside the crosswalk and therefore was not making the frequently referred to "left hand turn onto Sansome."
---
Contributions to Casey's family may be sent to:
Casey Moe Memorial Fund
c/o SF Fireman's Credit Union
2390 Market St.
SF, CA 94114
Attention: Michelle
Back to the table and analysis page
---
To receive regular e-mail updates, write us.
We won't share your address with anyone else and
you can remove yourself from the list easily any time.
Currently, we are the only source of info on this story
---