The Jonestown Massacre:
A Tragedy Made in
San Francisco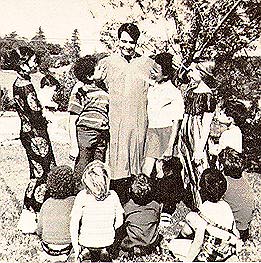 Promotional photo taken in 1972 and
used widely to demonstrate Jones' love of children
From left to right top:
Kim Uneii - murdered in Jonestown
John-John Stoen (baby being held by Uneii) - murdered in Jonestown
Phil Lacey - survivor. His mother and sister were murdered in Jonestown
Dorothy Buckley - murdered in Jonestown
Name withheld - survivor
Darrin Swinney - murdered in Jonestown

From left to right bottom:
Danny Beck - murdered in Jonestown
Steve Burnham - survivor
Martin Amos - murdered in Jonestown
Danny Pierson - believed to have survived, but whereabouts unknown
Darrin Janaro - murdered in Jonestown
---
From a cable sent to the State Department by Consul Richard McCoy after a visit to Jonestown on August 30, 1978:

. . .FRANKLY ENTIRE SITUATION SEEMS VERY STRANGE SINCE CHILDREN FOR THE MOST PART HAVE ONLY BEEN IN GUYANA NOT MORE THAN FOUR MONTHS. SOMEONE HAD TO APPLY FOR PASSPORTS FOR THEM AND ALLOW THEM TO TRAVEL. A SEPARATE QUESTION PERTAINS TO THE CHILDREN WHO HAVE BEEN AWARDED TO JONES AND OTHER MEMBERS OF THE PEOPLE'S TEMPLE BY THE STATE OF CALIFORNIA. PRESUMABLY COURTS THERE AGREED TO THEIR REMOVAL FROM STATE JURISDICTION. . .
---
"The Examiner had the goods on Jones more than six years before Jonestown"
Lester Kinsolving's report - Examiner reporter whose 1972 reporting on Jones was suppressed by the Examiner's publisher.

Another very detailed report on the failure of the San Francisco news media to report on Jones' misdeeds in California - MUST READING: "Madman in Our Midst: Jim Jones and the California Cover-Up"
---
287 children were
murdered in Jonestown
On December 12, 1978, the New York Times reported that a Guyanese court ruled that all but three of the deaths in Jonestown were the result of murder, not suicide. No California politician, official, judge, or attorney who participated with Jones in schemes to defraud government social programs, rig elections, or remove children from their parents or state supervision has ever been charged or even investigated for their complicity in these crimes.
Willie Brown Jr. is now mayor of San Francisco
Jerry Brown is now mayor of Oakland
Art Agnos was mayor of San Francisco and is now a regional director for HUD
George Moscone and Harvey Milk were assassinated by Dan White, a former San Francisco police officer, nine days after the Jonestown Massacre.
District Attorney Joseph Frietas, who was elected through Jim Jones' support and who appointed Jones' own attorney to investigate election fraud in the 1975 election, personally handled the prosecution. White was acquitted of first degree murder on a technicality so ridiculous ("the Twinkie defense") that it was later outlawed by the state of California.
Links for additional research:
An old tradition: Political corruption in San Francisco
Jonestown and election fraud in the 1975 fall election in San Francisco
A contemporary example of election fraud in San Francisco featuring Jones ally Willie Brown.
The destruction of the Fillmore and economic violence against San Francisco's black community
Politically motivated police violence in San Francisco
Ken McCarthy's review of ABC's one hour special on Jonestown aired October 18, 1998, one month before the 20th anniversary of the massacre.
The Scapegoat Generation - How American media owners and politicians, with California offering a particular odious example, use disinformation about the young to promote the cutting of social programs and building of more jails.
Primary Source Materials From The U.S. Department of State - Includes letters from Joseph Alioto, Harvey Milk, Art Agnos and Sue Bierman written on behalf of Jim Jones and disputing the charges of the "Concerned Relatives." Also includes the complete text of a flyer published by the "Concerned Relatives" and a formerly classified State Department document listing those who'd formally petitioned the government for help in insuring the safety of their family members prior to the mass murders.

Books about Jonestown that address Jones' central role in the political culture of San Francisco:
Children of Jonestown - will be back in print soon. Author Kenneth Wooden now runs an organization that teachers children to recognize and protect themselves from abusive people. It's called Child Lures
Hold Hands and Die - out of print
Raven - out of print
Heavenly Deceptor
"The mass suicides and murders In Jonestown, Guyan, were the most widely followed event of 1978, with a remarkable 98% of Americans saying they heard or read about the tragic occurrence. Few events, in fact, in the entire 43-year history of the Gallup Poll have been known to such a high proportion of the U.S. public."
- George Gallup
For information about another "mass suicide" that the US news media either bungled or deliberately distorted, see Brasscheck's report on Heaven's Gate. Like Jonestown, it was the one of the most covered stories of its time (ex. on the cover of Newsweek two weeks in a row), yet the reporting was so inaccurate and lacking in basic common sense as to defy belief.
"...and whoever kills one innocent soul, it is as if he killed the entire humanity."
The Koran - Chapter 5, Verse 32