Brown chastizes Bayview-Hunters Point
leaders for not toeing the line

(And the dignified response from the newly-named
Sojourner Truth Democractic Club)
Editor's note: A while back I was bemoaning the fact that the local news media could show us pictures of the surface of Mars and the "Sojourner" space vehicle, but they couldn't get us access to our own public election records.
As fate would have it, Sojourner Truth has made her way to San Francisco as well.
From Mayor Brown's letter: "I am extremely disapppointd that the Willie Brown Democratic Club, for whatever reason, did not support these important propositions ("Yes" on D and F) . . . The Willie Brown Democratic Club failed to be sensitive to the needs and opinions of the community . . . I no longer wish my name to be associated with (your club.)"
The Club's response
Brown's letter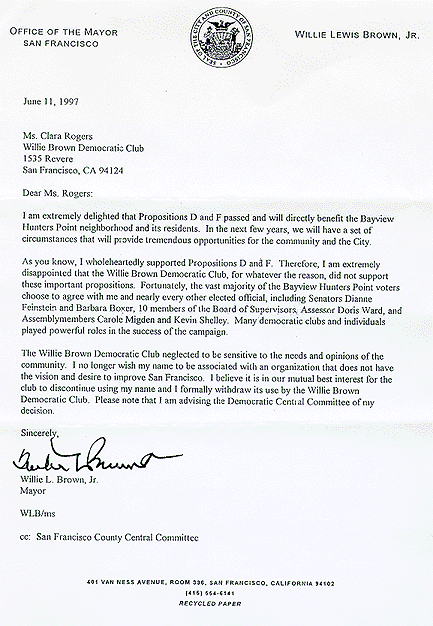 The Club's response
---
To receive regular e-mail updates, write us.
We won't share your address with anyone else and you can remove yourself from the list easily any time.