Investigation into the Management of the San Francisco Police Department Urgently Needed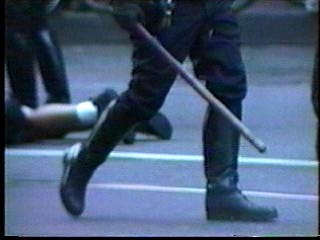 July 25, 1997: Several squads of club wielding San Francisco police officers assaulted a group of pedestrians and cyclists on Market Street without warning or provocation - and the local media says nothing
Most police officers are professionals who live up to the public's trust, but every force has "bad apples" like those portrayed in the movie 'Cop Land'. San Francisco is no different. Without strong, ethical leadership, any police force could deteriorate into a 'Cop Land', to the detriment of citizens and good cops alike.
Here are some of the 'Cop Land'-like incidents that have been reported in San Francisco in the last year and a half. Keep in mind, as of this writing (August 30, 1997), the police riot on July 25th has still not been reported to the public, so you can only imagine what is going on "off radar."
Law and Order: San Francisco-style
Mayor's limo involved in a hit and run? No problem.
Mayor's words irk woman hit by limo

City's top gambling investigator caught betting with bookies? No problem.
DA won't prosecute 2 cops accused of sports betting

Truck runs a red light and kills a cyclist? No problem.
Bicyclist dies after truck slams into him

Critical Mass cyclists allegedly violate traffic laws? Throw the book at them. "That'll teach the lttle bastards to boo when I speak." Attributed to Mayor Willie Brown.
---
Welcome to San Francisco:
Enter at your own risk