Mayor orders limousine driver to violate traffic laws then pins blame for accident on San Francisco police officer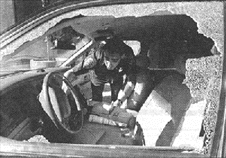 Photo: Brant Ward/The Chronicle

The local media accepts Mayor's Office version
of events without question. So what else is new?
Willie Brown, who has publicly spoken against affirmative action many times, was racing to a CNN TV appearance so he could comment on his participation in Jessie Jackson's anti-Proposition 209 demonstration. Proposition 209 weakens affirmative action laws.
What Brown was doing at this demonstration in the first place has never been explained.
Here are the local media's "stories" about the event.
Version 1
Mayor Brown's car hit by van
Ooops! Eye witnesses turned up who said this wasn't true.
Version 2
S.F. Mayor in Minor Auto Accident - No one hurt in Financial District crash
Minor accident? Take a look at the picture above. Luckily no one was hurt.
Version 3
Mayor's Driver at Fault For Thursday Accident
Apparently, "take charge" Willie, in a mad rush for a TV appearance, was calmly sitting in the back seat and had nothing to do with ordering his driver to make a U-turn in the intersection.

Question: If the local media can't get this story straight, then how reliable is their account of what happened to Casey Moe, the cyclist who was killed by a JCDecaux van last week?

Back to the home page
---
To receive regular e-mail updates, write us.
We won't share your address with anyone else and
you can remove yourself from the list easily any time.
Currently, we are the only source of info on this story
---