Who orders the violence against cyclists in San Francisco, why, and what are the specific mechanisms by which it is carried out?
ANSWER: Our analysis indicates that in retaliation for political attacks on items on his development agenda in which cyclist groups figured prominently, Mayor Willie Brown, through the agency of Deputy Chief Dick Holder, ordered and continues to order harassment, arbitrary arrests and violent police attacks on cyclists on Critical Mass night.

As intended, the media-generated hysteria over the montly Critical Mass ride has succeeded in diverting attention away from Brown's undermining of San Francisco's tranportation system in favor of the "development" projects of his clients
The evidence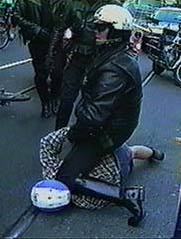 SFPD Lieutenant Keith C. Sanford (#1414) pins a 120 pound woman in a dangerous hold normally reserved for violent criminals after knocking her to the ground.
He claims that she assaulted him with her elbow and DA Terence Hallinan is prosecuting the case against her
The evidence:
Judge for yourself
Claim 1: The monthly Critical Mass ride was not considered a public problem until Willie Brown - with the eager cooperation of the local media - made it so
Exhibit 1: Press coverage of Critical Mass rides in 1997

January ride: no coverage
February ride: no coverage
March ride: no coverage
April ride: no coverage
May ride: no coverage


Note: The monthly Critical Mass ride was five years old in Septepmber 1997

Exhibit 2: "Official" attitude towards the rights of cyclists before the June ride

Bridge the Gaps for Cyclists
San Francisco Chronicle editorial - May 25, 1997

"Bike riding is not going away. It is a popular, healthy way to get around, and transit and highway agencies ought to welcome the new day. Building wider bridges, slowing traffic on bike routes, and publicizing the world of pedaling are a worthy task of good government."
Claim 2: Before the Critical Mass "problem" became a public issue, Brown's neglect of transportation issues was coming under increasing fire which was threatening his clients' "development" programs
Exhibit 3: Brown projects opposed and/or thwarted by cyclist groups before the June and July rides
---
UPDATE: A new and related alternate theory as to why the local media was so quick to lead the attack on the riders and then cover the facts.
---