The Mills family, escapees from the People's Temple, had been threatened with death by Jones' supporters. Mills had been director of publicity for the "church" and had extensive knowledge and documentation of its relationship with local political figures. No one has ever been charged with the murder of the Mills family and the crime has never been solved.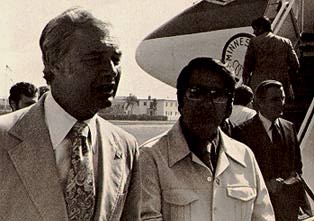 Mayor George Moscone and Jim Jones meet Walter Mondale at SFO - Willie Brown attributed Moscone's electoral victory to Jones
"Mayor George Moscone said yesterday that his office will not conduct any investigation into allegations that have been made about Rev. Jim Jones. . ." - July 27, 1977
District Attorney Joseph Frietas appointed Jones attorney Tim Stoen to investigate allegations of election fraud in Moscone's election even though members of the People's Temple were among the prime suspects. Election fraud continues to be a tradition in San Francisco today.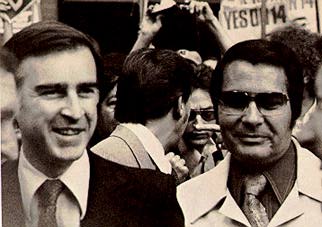 Jones delivered votes for Jerry Brown's campaign for governor. As governor, Brown ordered the Temple's records removed from San Francisco to Sacramento just weeks after the Jonestown murders
"Ninety-nine percent of all the work done by People's Temple is in the service of the elderly, poor families, and troubled youth. . . It is most unfortunate that some people. . . feel threatened by this simple organization and philosophy of service." - Art Agnos - photocopy of the full letter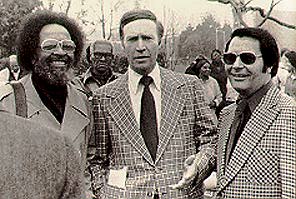 Mutual admiration society: Preacher-entrepreneur Cecil Williams, Police Chief Charles Gain, and Jim Jones - While building his "church" in San Francisco, Jones was engaged in extensive financial fraud and the torture and sexual abuse of children. Local politicians like Williams and Gain "saw no evil."
"Called less formally PT, the church is best known and highly regarded for its social works, which include housing and feeding senior citizens and medical convalenscents, maintaining a home for retarded boys, rehabilitating youthful drug users. . ."
- Charles deYoung Thieriot, Publisher of the Chronicle
"Timothy and Grace Stoen, the parties that have been attempting to damage Rev. Jones' reputation, and seriously disrupt the life of his son, John, have already been discredited by the news media here." - Harvey Milk - photocopy of the full letter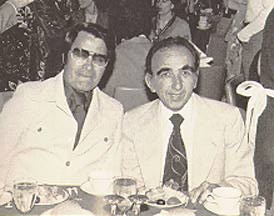 Bob Wallach, head of the SF Bar Association and Jones. The People's Temple kept a small army of San Francisco attorneys busy as they successfully fought parents for custody of their own children and engaged in a wide variety of fraudulent activities. The legal fees were money well spent as local courts found in Jones' favor in every case.
"Jim Jones is a rare, rare specimen. Jim Jones is a symbol of what we all ought to be about. . . Jim Jones is, in my opinion, a true human being." - Willie Brown, Jr.