Exhibits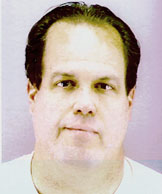 John David Griffin, 41
Resident of San Francisco

Mr. Griffin, like all Americans under protection of our laws, is presumed innocent until proven guilty.

According to a press release issued by the San Francisco District Attorney's Office on June 12, 1997: he's been charged with two counts of voter fraud: 1) voting more than once and 2) voting under an assumed name.

Strangely, the DA's Office attempted to block the release of this photo and it took many calls to get it released. Frankly, the excuses they made for not releasing it promptly were ridiculous.

Described in some press reports as a "fan" and "volunteer campaign worker," Mr. Griffin was a precinct captain for the "Yes" campaign. This means he was in direct contact with the campaign hierarchy and was responsible for supervising the activities of other campaign workers.

If he did commit these crimes, who directed Mr. Griffin to vote multiple times? Did he direct others to do so? Was he seen by other voters either alone or in the company of others on election day at other polls? Did he travel in city-owned vehicles while making his rounds? Why did he change his appearance by shaving off his beard between the time he allegedly committed these two felonies and was charged?

Take a good look. Did you see him at your polling place?

Note: as of June 19 1997, this is the only place San Franciscans have access to this photo. Apparently, the local dailies are not interested in these questions and the local DA would just as soon you not ask.

If you have any leads, please write us.
---
To receive regular e-mail updates, write us.
We won't share your address with anyone else and you can remove yourself from the list easily any time.