How to Stage a
"Picture Perfect" Media Op
- Part Three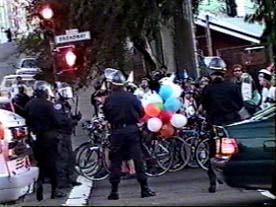 Cyclists being held up at a green light at the Larkin Street corner by riot police. They refuse to respond to CCT and persist in conducting themselves in a playful and jovial manner - even after over ten minutes of arbitrary delay
Media ops: Crisis Creation Tactics (CCT)
Now that we have set the scene with cars, cops, and other appropriate props and have given the media time to set up their cameras, it's now time for the third and most important "C" - CRISIS.
In the July ride, crisis was created in a rather straightforward way. Officers specially trained in CCT simply made their way through the crowd employing Rapid Vertical Motion (RVM) tactics. (Note: These tactics are greatly enhanced when used on people on bicycles. Unfortunately, since cyclists are often helmeted, the effect is moderated somewhat.)
RVM is always appropriate, but depending on the position of unwanted cameras, it may be necessary to act with a degree of stealth. Before engaging in RVM, it is a good habit to check to make sure that cameras are focused elsewhere.
The cyclists at the Broadway Tunnel make for an interesting example of the need for creative CCT. The normal tactics of threatening behavior, harassment, insults, and illegal dentention failed to have the desired effect on the group's behavior.