How to Stage a
"Picture Perfect" Media Op
- Part Four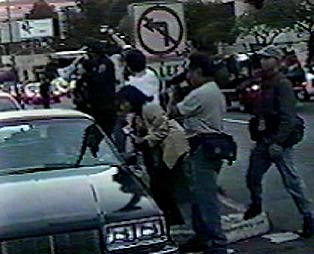 Media ops in action! Televsion news crews ignore the larger scene and focus their attention on interviews with motorists stuck in the police-created traffic jam. Interviewees are asked how they feel about the traffic delays caused by Critical Mass
Location: eastbound lane of Broadway
at the Larkin Street light
Media ops: Crisis Creation Tactics - 2
In San Francisco, traffic jams are hardly news, even if they are "caused" by Critical Mass and it was felt that the media was somewhat disappointed with the event.

Sensing their disappointment, I called on several team members to add an additional element of visual excitement to the scene. Here's what the officers came up with.
As the cyclists made their way towards the tunnel, specially trained officers selected two from the crowd and applied RVM.