How to Stage a
"Picture Perfect" Media Op
- Part Two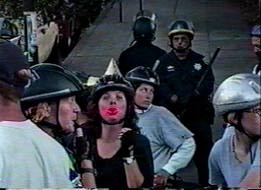 Though most Critical Mass riders have learned to watch their backs in the presence of large numbers of police, a few still fail to assume photogenic poses on demand
Location: looking south down the west side of the Larkin Street sidewalk
Media ops: The nuts and bolts
Now that we have digested the necessary preliminary material, it's time to turn out attention to the nuts and bolts details of staging a media op.
Just remember the 3 C's:
CARS (preferably with sirens),
COPS (the more, the merrier), and
CRISIS (they're not as hard to create as you might think)

CARS - A mass of squad cars with sirens speeding to what some might call as a "non-event" may seem to make little sense, but is it a natural prelude to any properly executed media op. Though the use of sirens is normally limited to authentic emergencies and situations of high urgency, it can also add a touch of drama to what otherwise might be a dull scene.
Visual aid #1: Squad cars take position on the east side of Larkin south of Broadway. Note emergency lights.

COPS - The best way to demonstrate that a group of people are lawbreakers (or potential lawbreakers) is to surround them with lots of cops, preferably in riot gear. Again, it is narrow minded to think that this kind of "show of force" should be restricted to serious threats to public safety. Media ops, being for the greater public good, supercede normal police procedures.
Visual aid #2: Riot equiped police make a striking sight as they block cyclists heading east on Broadway towards the entrance of the Broadway Tunnel - a public roadway which the law explicitly permits cyclists to use.
Visual aid #3: Form is important. Same scene looking south down Larkin.
Visual aid #4: Commonly referred to as a "bat", this big stick makes a big impression. A smaller stick might fail to convey the right image.
Visual aid #5: Don't forget the props. Displaying handcuffs signals the news media "we mean business!" Also, you never know when things may get out of hand.

CRISIS - Often, cars and cops can create a crisis all by themselves, but sometimes the situation calls for crisis creation tactics (CCT).

Winner - The 1997 Richard J. Daley Award
Back to the home page