Why the Department of Elections
is the way it is

The following diagram and accompanying explanation is one of the main keys to understanding why San Francisco is embroiled in its worst political crisis since Dan White, a member of the Board of Supervisors, assassinated Mayor George Moscone and Supervisor Harvey Milk in the 1970s. (To our out-of-town readers: as you've probably noticed by now, a lot more goes on here than baking sourdough bread and riding cable cars.)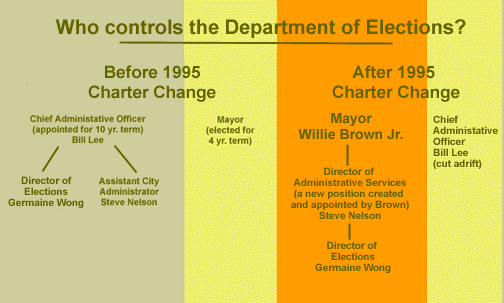 Before a major change in the city charter in 1995, power in the city of San Francisco was distributed between the Board of Supervisors (legislative), the mayor (executive), and the Chief Administrative Officer (administrative.)
This system was set up in the 1930s partially in response to a political machine that robbed the city blind in the first decade of this century. In fact, 90 years ago this year, the Mayor, the Chief of Police, all 18 members of the Board of Supervisors, and the chief political "fixer" were all arrested on corruption charges.
The beauty of the pre-1995 system was that the Chief Administrative Officer, who was in charge of running the details of the city's business, was appointed to a 10 year term and therefore could largely ignore the temper tantrums and bullying of the Mayor - assuming the Mayor was that kind of guy.
One of the important city functions the Chief Administrative Officer oversaw was San Francisco's elections. It was his show entirely and the Director of Elections, Germaine Wong, was appointed by him and served under him in the chain of command.
After the 1995 charter change, "Chief Administrative Officer" became a title without any real power. The Mayor took charge of the chain of command that leads to the Department of Elections and he has the power to hire and fire the Director of Elections at will. Indeed, he has publicly threatened to fire Germaine Wong several times already.
Mayor Brown created a new position called Director of Administrative Services and appointed Steve Nelson to fill it. Steve Nelson had been brought in in 1995 to handle the details of running the Department of Elections to handle a "crisis" that was blamed on Germaine Wong's administration. Apparently that "crisis" extended through the 1997 stadium vote because here's pictures of Steve Nelson running the vote counting machine for that election.
To make this overly long story short, if you don't like what's going on in the Department of Elections, don't be in such a rush to blame it on Germaine Wong. She's under the direct control of Mayor Brown and his appointee Steve Nelson. Bring it up with them.
You now know something that the members of the local press corps - who make their livings writing about such things - apparently don't. I assume they don't because they never talk with Mr. Nelson or Mr. Brown about the details of how the Department is being run. And if you don't think Mayor Brown is a detail main, especially where the press is concerned, check this out.
---
To receive regular e-mail updates, write us.
We won't share your address with anyone else and you can remove yourself from the list easily any time.