Exhibits
Bogus Parking Permit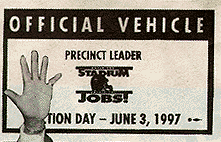 photo credit: San Francisco Bay Guardian
City employees and pro-D and F volunteers were given special placards that they were told would allow them to park anywhere other than bus zones, fire hydrants, and curb cuts while they canvassed for votes. Though the placards were not issued by the Department of Parking and Traffic, sources say DPT management directed employees to write no tickets for cars bearing the pro-D and F parking permits.
DPT officials denied any collaboration with the stadium campaign but conceded that some employees were concerned.
"[The placards were] brought to my attention by a parking operator, and I told him [they] meant absolutely nothing," DPT bureau chief James Howard told the Bay Guardian. "[Campaign officials] thought they could get some relaxed enforcement, and they tried to make [the permits] look as official as they could. The intent was to confuse the parking officers so that they might not give tickets."
One of Howard's employees, who asked not to be identified, said to the Bay Guardian that she was told to honor the permit. "They told us this morning that we were not supposed to touch you with [the permit] on your car as long as you are not parked in a hazardous place," she said.
Source: Bay Guardian, June 11, 1997.
---
To receive regular e-mail updates, write us.
We won't share your address with anyone else and you can remove yourself from the list easily any time.