SpaceX: Entrepreneur's race to space
Related article…
1st Private Mission to Space Station Set to Launch April 30
by Mike Wall,
SPACE.com Senior Writer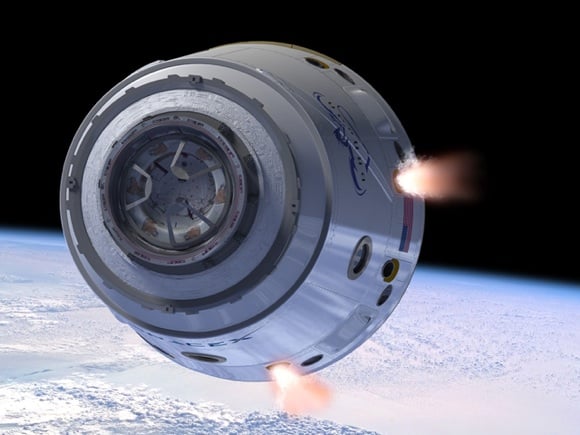 A private spaceship mission to the International Space Station is on track for a planned April 30 launch, which will mark a historic first for the orbiting laboratory, NASA officials announced today (April 16).
The launch will kick off a pivotal demonstration flight for the unmanned Dragon capsule built by the company Space Exploration Technologies (SpaceX) of Hawthorne, Calif. During the mission, the gumdrop-shaped spacecraft will rendezvous with the space station, be captured by astronauts operating a robotic arm and offload some cargo.
If successful, it will be the first time a commercial American robotic spacecraft has ever flown to the International Space Station.
NASA space station managers and SpaceX officials met earlier today to review the Dragon spacecraft's readiness for its debut trip to the orbiting lab. They said the capsule is on track to blast off in two weeks, but only if a few remaining issues are resolved.
"Everything looks good as we head towards the April 30 launch date, but I would caution us all that there's still quite a bit of work that needs to be done," Bill Gerstenmaier, NASA associate administrator for Human Exploration and Operations, told reporters today. More software validation tests for the Dragon spacecraft, for example, are among the items remaining to be completed.
"We'll continue to work through this stuff over the next week or so," he added. "On the 23rd of April, we'll get back together again and just kind of assess where we are overall to see how things are moving forward."
Making history
SpaceX aims to become the first company to launch a spacecraft toward the orbiting lab under NASA's Commercial Orbital Transportation Services (COTS) program, which seeks to spur the development of American private vehicles to take over the duties of the agency's retired space shuttle fleet.
The firm holds a $1.6 billion contract with NASA to make 12 robotic supply missions to the space station. But the scheduled April 30 flight is not one of the 12; rather, it's a demonstration to show that Dragon and SpaceX's Falcon 9 rocket have the right stuff.
Read more here
Brasscheck TV needs your help
Brasscheck TV relies on viewer contributions to keep going